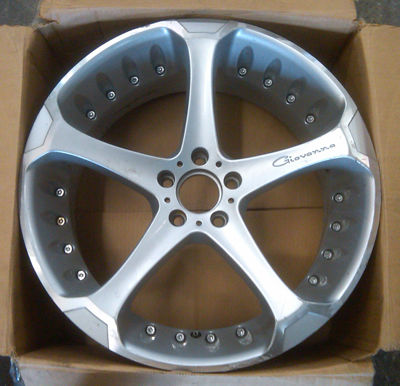 We are located in Dallas Fort Worth Metroplex which is located in Texas, we welcome customers nationwide. Once we take the order and we can verify if we can fix the rim by you sending us a email or multimedia message with your phone and payment is sent. Then we encourage all non local customers to use our shipping procedures below
FOLLOW THESE 4 EASY STEPS

Step 1: Go to a local tire shop and have the tire unmounted. Any local tire shop has a tire unmounting machine. (optional we can also unmount it at our location once we recieved it for a additional fee of $20)
Step 2: Pack the rim up into a box just slightly bigger then it making sure there is no room for the rim to move around in. Bubble wrapping the rim is always a plus and ensures no extra damage done to it. Put the invoice inside along with the rim.
Step 3: Call or email us with the dimension of the box and we will email(Adobe PDF) or fax the shipping label for you to tape on the box.
Step 4: Have the box ready to go. Depending on your location, we can have UPS pick up your rim. Otherwise, all you need to do is take it to the closest UPS store and leave it there with the shipping label that we faxed or emailed to you. We usually ship UPS Standard Ground, but if you decide to go with a faster shipping option, their will be an additional fee.